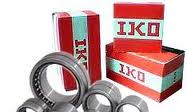 IKO ,a registered trademark of Japanese Thomson Group,is a technology development and technology-oriented industrial parts manufacturer.

IKO company produced high-quality products has become a brand representatives, through global marketing network for the users convenient, speedy service.

IKO needle bearing its special internal structure of the mechanical design of small, lightweight. Bearing Guide to needle roller bearings under the foundation for high-quality, unique equipment to do precision machining, the latest machines for quality evaluation, product performance and always maintain a high quality standard.

IKO Bearings East Sheng Sheng East Japan Ltd. IKO is a history of more than 50 years, production of needle roller bearings and linear guide Known professional bearing manufacturers around the world have enjoyed a high reputation, the Japanese production of needle roller bearings with the longest history of the most complete and professional level of the highest production manufacturers;
IKO Card Act created four cylindrical roller world-renowned heavy rail. Its products are widely used in the machine tool industry and other fields.