Single row cylindrical roller bearings are manufactured in several different designs, the main difference being in the configuration of the flanges. The most popular are the NU, N, NJ and NUP designs. Cylindrical roller bearings can accommodate heavy radial loads and high speeds.Some with different strcuture of ribs can also bear one way ot two way axial load.NN and NNU double row cylindrical roller bearings have a low cross section, high load carrying capacity and high stiffness,therefore it is mostly used in machine tool spindle stands.FC,FCD,FCDP four row cylindrical roller bearings with large capacity of radial load,mostly applied in rolling mill and heavy machiner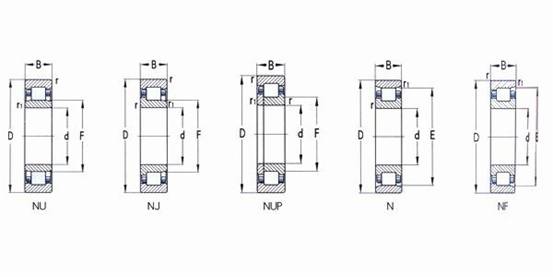 Double-row Cylindrical Roller Bearing
This type of bearings is separable.As their rollers linearly come into contact with inner ring and outer ring with less coefficient,these bearings have very good capacity of radial load,suitable for electric motors,automobiles,transmission shafts,gear shafts and so on.Double row cylindrical roller bearings are good at the spindles of spindles of machine tools.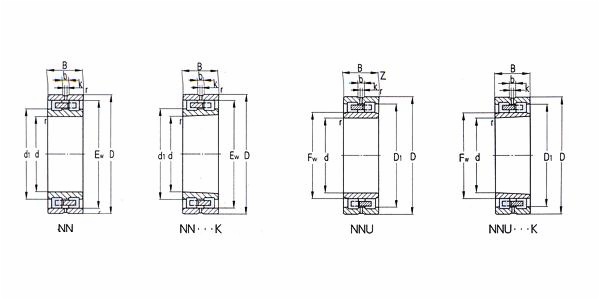 Four-row cylindrical roller bearings
Four row cylindrical roller bearings can carry much heavier radial load and shock load. They have higher precision and can be applied in the equipment which runs with high rotational speed. Grinding the surface of raceway and roller at same time after the inner ring is pressed on roller neck, it favors the improvement of rolling precision and the free adjustment of mounting clearance of bearings. These bearings are mostly applied to the working roller and backup roller of rolling mills and some other cases.
FC: double outer rings, single inner ring, and inner without flange.
FCD: double outer rings, double inner rings, and inner ring without flange.
FCDP: double outer rings, only have center flange, but with loose rib, double inner ring, inner without flange.